The Mommy Workout with Melissa 
Melissa brings all her expertise to this 8 week workshop – even her AMAZING baby squeezing skills. Bring your infant, crawler or toddler and we will use yoga, pilates and barre work to get your body moving. Melissa encourages the small humans to have as much fun as the big ones, so if you are worried about crying, 'cranky-pants' or a busy body – don't. Our environment is as much about a supportive community as it is about a good workout. Bring a baby carrier if you wish!
10 weeks
Date: Jan 10 – March 13, 2020
Day: Friday morning
Time: 10:45am – 12:00pm
Investment: $160 +hst (10 weeks) OR Drop-in $22
Sleep and Self Care for Mama's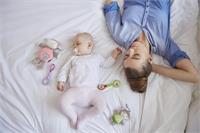 The myths and realities of life with your baby.Get your sleep priorities sorted this year! Join professional sleep consultant Jessica White and yoga practioner Melissa Enfield Johnson on Sunday, January 26 at 10:30 for a two hour workshop that debunks the myths of self care and sleep for your family and your baby. Get REAL LIFE solutions for sleep issues and mental health. Ask the questions you need answered. Learn how prioritizing sleep can have the biggest impact on your health and relationships.
Babies and Children are all welcome.
Sunday January 26, 2020                                                                                         10:30 AM – 12:30 PM                                                                                    Investment $35.00 +hst
The Teen Workout – Melissa
Calling all girls ages 13-17. Join Melissa every week for an incredible workout. Start off on the bike and end upstairs using a variety of weights, TRX, pilates and yoga. Each week will be a different workout.
Day: Wednesday afternoon
Date: Jan 15 – March 4, 2020
Investment: $125 (8 weeks) Drop in – $20